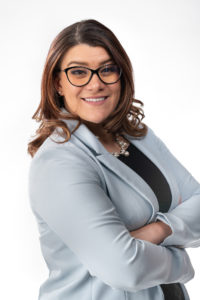 Mayor Erin Stewart is the 40th Mayor of the City of New Britain, Connecticut. She was first elected at the age of 26 in 2013 then was re-elected in 2015, 2017, and 2019. Mayor Stewart is the youngest mayor in the City's history and the only female mayor of New Britain to be elected to more than one term.
Mayor Stewart was born on May 4, 1987 in New Britain to Patricia (Badolato) and former New Britain Mayor Timothy Stewart, who served from 2003 to 2011. Her uncle, the late State Representative Dominic J. Badolato, represented New Britain in the Connecticut General Assembly for 22 years. Mayor Stewart's entire family has a longstanding commitment to serving their neighbors in New Britain, and she is proud to continue that tradition.
Mayor Stewart has earned accolades for her leadership and results-driven style of governing. She closed a deficit of more than $30 million during her first term, increased the City's Rainy Day fund to $18 million, and brought stability and responsibility back to the City's finances. Under Mayor Stewart's leadership, the City's Standard and Poor's bond rating has increased by four notches to "A+." As a result of these efforts, Mayor Stewart and New Britain have been featured twice on the front cover of the Bond Buyer, the nation's leading municipal finance newspaper as a model for other communities.
Under her leadership, New Britain is undergoing a dramatic economic turnaround. Over the last seven years, the City's Grand List has increased each year, due to the addition of new businesses like Costco, Polamer Precision, Addaero, Connecticut Cabinetry, the Alvarium Beer Co., Mofongo, YoYo Ice Cream, Five Churches Brewery, and dozens of others who have chosen to expand, relocate, or establish themselves in New Britain.
Mayor Stewart has leveraged the opportunities presented by the opening of CTfastrak in 2015 by creating a master Transit Oriented Development plan to transform vacant or underused parcels near the City's three stations to create a community where people of all ages and economic backgrounds want to live, work, and play. Investments by the City have attracted numerous housing and development projects. One of these projects includes Columbus Commons, a $58 million mixed-use development featuring housing, retail, and office space at the site of the former New Britain Police Department, just steps from the City's downtown CTfastrak terminal. Mayor Stewart's commitment to transforming these neighborhoods has attracted other developments in the downtown area, including the historic renovation of 57 Court Street, along with additional apartments on Main Street, West Main Street, and several other areas.
Mayor Stewart has also invested significant resources in helping New Britain's homeless population through her creation of the Building Hope Together Task Force: New Britain's Permanent Workplan to End Homelessness. By bringing city officials, clergy members, and social services providers around the same table, Mayor Stewart is not only continuing New Britain's tradition of compassion for those less fortunate, she is intent on finding housing, treatment, and work for those who seek it. Building Hope Together has become a model for other communities that are tackling the issue of homelessness.
In November 2018, the City of New Britain partnered with the State's Attorney's Office and area service providers to create a coordinated pathway to treatment and recovery for individuals struggling with heroin and opioid addictions. Among the partners are: The New Britain and Berlin Police Departments, the New Britain Fire Department, the Hospital of Central Connecticut and Midstate Medical Center, Community Mental Health Affiliates, Wheeler Clinic, Rushford clinic, Corum Deo, the State's Attorney's Office, and New Britain EMS. Three months into the initiative, more than two dozen individuals have been provided assistance.
In addition to the H.O.P.E. Initiative, Mayor Stewart in January 2019 launched the New Britain Opioid Task Force to look at additional ways to prevent opioid-related deaths. The Task Force is led by the Mayor and includes members of the City's Community Services division and Health Departments, New Britain EMS, CMHA, the New Britain Fire Department, and other partners. Committees will focus on collecting and sharing data, a public information campaign, the development of online resources, applying for grants, offering community Naloxone training sessions, and more.
Mayor Stewart launched the SMART City Committee as a way to make New Britain a "SMART City." The goal of the committee is to reduce the cost of government, harness new technologies, and make more efficient use of existing resources. Projects implemented include a redesigned City website, a large solar array at the Shuttle Meadow Water Treatment Plan, electric vehicle charging stations, a fuel cell at New Britain High School, LED lights in City buildings, free downtown wireless internet, downtown parking meter upgrades, and more. Other initiatives have included a mobile app called SeeClickFix that allows residents report a pothole or other issue directly to Public Works, upgrading downtown traffic lights so they can be realigned in real-time, and a free textile recycling program. Mayor Stewart has also hired a new energy manager, who is working with the City's facilities manager to reduce electrical costs by at least 10 percent.
At the onset of the coronavirus global health pandemic in 2020, Mayor Stewart took action and established a plan to combat the virus head on. She invested significant sums of federal CARES Act monies into City safety infrastructure upgrades, an education and marketing initiative designed to help support struggling local small businesses, and direct investments to families struggling to make ends meet through food pantry support and remediation services. Additionally, Mayor Stewart won accolades from the community for her TranspERINcy video series where she relayed direct information to the public on safety measures, testing location updates, and the statewide COVID-19 vaccination distribution rollout.
Mayor Stewart never passes up an opportunity to inspire other individuals—especially City youth and females—to develop the confidence and leadership qualities they need to grow and give back to their community. A former volunteer New Britain High School softball coach, Mayor Stewart has been a keynote speaker at the Connecticut Business and Industry Association's When Women Lead conference, a repeat speaker at Central Connecticut State University's Elect-Her series, a frequent guest at the YWCA's House of Teens program, and a frequent visitor to area schools where she is proud to instill a lifelong pursuit of learning.
Mayor Stewart continues to be humbled by the recognition she has received for her service and leadership. She was given the Women's Leadership Award from the Connecticut Republican Party. Connecticut Magazine named her one of their "40 Under 40," and the New Britain City Journal named her their "Person of the Year." The Greater New Britain Arts Alliance has also awarded Mayor Stewart "Public Servant of the Year." She has been the subject of in-depth profiles by national media outlets like the New York Times, Cosmopolitan, Time Magazine, and Newsmax, which in January 2016 named her to the top of their "30 Most Influential Republicans Under 30" list. In 2020, Mayor Stewart was named "Best Politician" in Connecticut by Hartford Magazine.